Results
Levallois-Perret - Le So Ouest
Room 5
10m²

room

93m²

flat

5

rooms
double bed
wifi
Levallois-Perret - Le So Ouest
Room 2
12m²

room

93m²

flat

5

rooms
double bed
balcony
wifi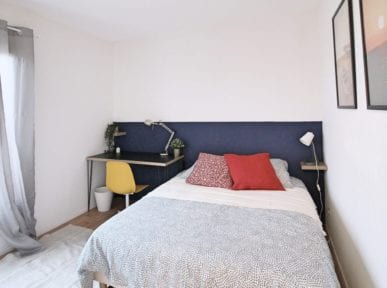 Levallois-Perret - Le Perret
Room 3
10m²

room

77m²

flat

4

rooms
double bed
balcony
wifi
Levallois-Perret - Le Perret
Room 1
15m²

room

77m²

flat

4

rooms
double bed
wifi
Levallois-Perret - Le Perret
Room 2
10m²

room

77m²

flat

4

rooms
double bed
wifi
Levallois-Perret - Le So Ouest
Room 4
10m²

room

93m²

flat

5

rooms
double bed
wifi
Levallois-Perret - Le So Ouest
Room 3
10m²

room

93m²

flat

5

rooms
double bed
wifi
Levallois-Perret - Le So Ouest
Room 1
16m²

room

93m²

flat

5

rooms
double bed
balcony
wifi
Levallois-Perret - Le Perret
Room 4
10m²

room

77m²

flat

4

rooms
double bed
wifi
9 / 9 - Loyer max: 3000€
Discover shared accommodation in Levallois-Perret and around
Its proximity to the capital makes Levallois-Perret one of the most popular cities in the inner suburbs. Its public transportation network allows you to be in the heart of Paris in less than 5 minutes. 
If you want to take advantage of the capital's attractions, choose a shared apartment in Paris. We have many properties at your disposal at affordable prices.
On the other hand, if you want to enjoy Paris while living in a quieter area, why not try a shared apartment in the Île-de-France region? Several cities are available in the Hauts-de-Seine department. Art lovers? Consider shared accommodation in Clichy, home to the famous Louis Vuitton Foundation. 
If you enjoy the great green spaces of Paris, such as the Parc de Saint-Cloud, the apartment-sharing in Rueil-Malmaison is for you. A little further to the north, Nanterre will delight you with its proximity to the La Défense district.
A little further south, head to the Val-de-Marne department and discover shared housing in Ivry, a cosmopolitan, urban and cultural city.
A few kilometers from Paris is another city, more popular than Levallois-Perret. Discover shared housing in Saint-Denis, a quiet city away from stereotypes with many good surprises in store for you.
Coliving revolutionizes shared accommodation in Levallois-Perret
Coming straight from the United States, coliving is slowly making its way into the city of Levallois-Perret. This concept allows people from all over the world to live in the same apartment, while keeping their secret garden and their intimacy in spaces designed for this purpose. They benefit from a fully equipped room (bed, bedside table, desk, lamp, wardrobe), a private bathroom when the apartment allows it, without paying more than the initial amount of their rent. Internet, water, electricity and home insurance costs are included.
A new generation living-and-sharing lifestyle to which the roommates can add extra services, like hotels can offer, but also share living spaces such as a garden, a rooftop, or fitness areas, depending on the location of the residence.