Newcomer to the rental market, coliving is bringing shared accommodation back into fashion. Born in the United States, coliving will appeal all those who want to live in city centres, in large flats, all for a moderate price. And above all, coliving will appeal to all those who like to share flat and those who want to discover a new way of life.
Strasbourg is a dynamic city with a UNESCO World Heritage Site in the centre. If you like this atmosphere, you are bound to find the right flat share in Strasbourg.
🏠 Our flats in Strasbourg
Located on the border with Germany, Strasbourg is the heart of Europe as it hosts various institutions such as the European Parliament, the European Court of Human Rights and the European Council. Choosing coliving in Strasbourg means you can benefit from spacious spaces, close to the places of interest of the capital of the Grand-Est, for a moderate rent.
At Colivys, you can all benefit from one of our bedrooms, regardless of your status. They are located in secure, fully-equipped flats, with private spaces (bedrooms and bathrooms, if the configuration allows) as well as shared spaces. What better way to bond with your flatmates than by cooking a good meal, for example?
Because we want your move-in and your stay to go as smoothly as possible, we provide a number of facilities (washing machine, dishwasher, etc.) as well as services, such as concierge services and administrative assistance.
Strasbourg - Marcus
Room 2
13m²

room

169m²

flat

6

rooms
double bed
wifi
Strasbourg - Marcus
Room 6
12m²

room

169m²

flat

6

rooms
double bed
wifi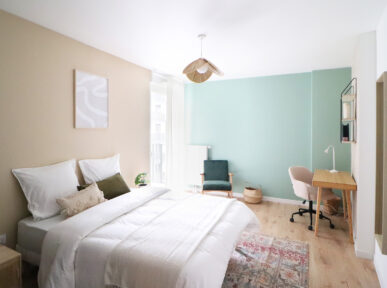 Strasbourg - Arion
Room 1
18m²

room

85m²

flat

4

rooms
double bed
private bathroom
balcony
wifi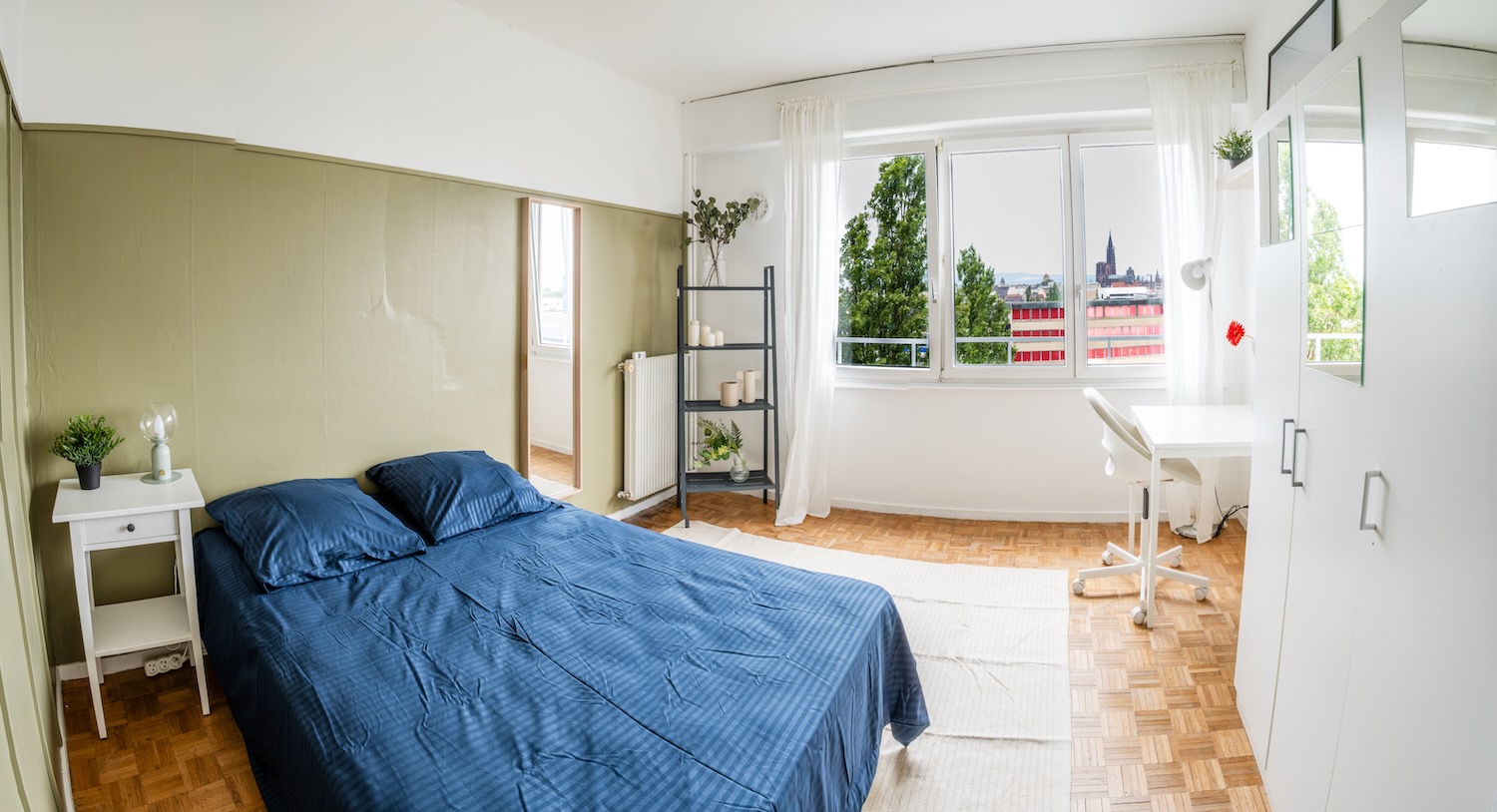 Strasbourg - Le 18 Juin
Room 4
16m²

room

90m²

flat

4

rooms
double bed
wifi
Strasbourg - Clémenceau
Room 3
22m²

room

133m²

flat

5

rooms
double bed
sofa
wifi
Strasbourg - Le Stockholm
Room 4
16m²

room

100m²

flat

4

rooms
double bed
wifi
To make your stay in one of our flats as pleasant as possible, we take care of the rental charges. Water, electricity, gas, internet, and home insurance are all included in your rent. So, no extra stress, but please don't overconsume (nature will thank you).
We want to make it easier for you to find accommodation through renting/flat-sharing/subletting. Student, employee, trainee, student on work experience, French citizen or foreigner, our flats in Strasbourg are open to you without having to justify the amount of the rent three times. We only need the following documents:
Tenant's identity card or passport
Last 3 payslips (if you are employed)
Employment contract (if you are an employee, trainee, or student)
Last tax assessment
School certificate (if you are a student)
You are a foreigner? We welcome you with open arms and will help you with your application. You can also count on our partner GarantMe if you do not have a guarantor. You are in relationship and you would like to rent one of our bedrooms for the both of you? This is possible thanks to our DUO option!
If you would like more information about booking our bedrooms, please contact us at

[email protected]

.
At Colivys, our motto is to make it easy for our customers to move in and out. That's why we offer a full package that fits your life. You want to leave your coliving flat? The notice period is one month (compared to 3 months for a classic furnished rental). You don't like your flat anymore, and you want to change it? Contact our customer service. They will find you a new bedroom as quickly as possible. You have already booked a bedroom, but you want to cancel it? Contact us and we will take care of it.
Our priority is to make all our colivers feel at home in our coliving flats in Strasbourg. To achieve this, we do our utmost to provide our colivers with the best possible living environment. Our flats are all ready-to-live-in and fully furnished: mattress, bed, desk, dishwasher, gas cooker, washing machine, etc. We can also offer a range of additional services, from the provision of bed linen and towels to administrative support to any of our clients who require it. All you have to do is bring your bags and the adventure can begin!
An international community
Every year, France welcomes many foreign students and workers. This is also the case for our coliving flats. Since 2017, more than 90 nationalities have come and gone. Indians, Moroccans, Spanishs or even Americans, all have experienced the adventure of living together in our flats. Bonds have been created and, as we make it a point of honor to develop a real community, we develop it by organizing after work parties and activities between the flatmates of the different flat shares.
Colivys always offers you more!
In order to provide the best possible support to our guests, we have developed 3 different booking formulas, which best meet their expectations and needs:
Essential – this includes all the essentials that our sub-tenants will need, such as an arrival pack with information on the city of Strasbourg, the must-see places in your area; and also the presence of a dedicated city manager
Prestige – this enhanced version of the "Essential" package includes greater flexibility for our guests in their check-in and check-out, and the possibility of providing them with bed and household linen
All-Inclusive – as the name suggests, includes assistance with administrative procedures, dedicated pick-up from your place of arrival to your place of residence, and also the possibility to cancel 10 days before the planned start of your stay
Find out more about the packages during your bedroom booking process.
The Colivys experience in Strasbourg
Want to try the coliving adventure in Strasbourg? Colivys welcomes you to the heart of the capital of Alsace to enjoy the joys of flat sharing with additional services. Coliving by Colivys is not only about sharing the same accommodation, it is about creating a community based on colivers.
Discover also :