Results
Schiltigheim - Hestia 1
Room 2
11m²

room

73m²

flat

4

rooms
double bed
wifi
Schiltigheim - Hestia 1
Room 3
10m²

room

73m²

flat

4

rooms
double bed
wifi
Schiltigheim - Hestia 1
Room 4
12m²

room

73m²

flat

4

rooms
double bed
balcony
wifi
Schiltigheim - Arion
Room 2
10m²

room

85m²

flat

4

rooms
double bed
wifi
Schiltigheim - Arion
Room 3
13m²

room

85m²

flat

4

rooms
double bed
wifi
Schiltigheim - Arion
Room 4
16m²

room

85m²

flat

4

rooms
double bed
balcony
wifi
Schiltigheim - Hestia 2
Room 1
14m²

room

73m²

flat

4

rooms
double bed
wifi
Schiltigheim - Hestia 2
Room 3
10m²

room

73m²

flat

4

rooms
double bed
wifi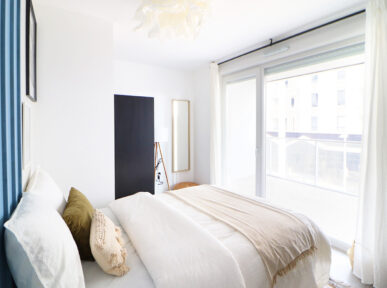 Schiltigheim - Hestia 2
Room 4
12m²

room

73m²

flat

4

rooms
double bed
balcony
wifi
Schiltigheim - Hestia 2
Room 2
11m²

room

73m²

flat

4

rooms
double bed
wifi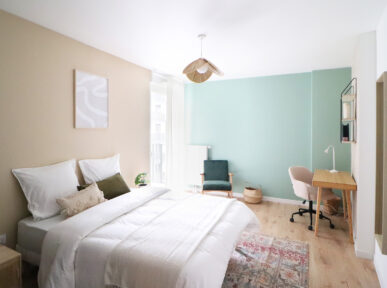 Schiltigheim - Arion
Room 1
18m²

room

85m²

flat

4

rooms
double bed
private bathroom
balcony
wifi
11 / 11 - Loyer max: 3000€
Historical land of hops, the city of brewers has earned its nickname from the multitude of breweries established on its soil, such as the Fischer brewery. It is on the production site of this former brewery that the Nouveau Quartier Fischer was founded. A residential and modern district, now the home to several buildings where our four shared apartments, each with four bedrooms, are located. They have been refurbished and designed around the idea of sharing, thanks to the common spaces. Moving into these apartments means taking advantage of all the conveniences necessary for your daily life: Alsatian, Italian and Afghan restaurants, supermarkets, and public transport are only a 3-minute walk away. If you like sports and especially handball, the Strasbourg handball club is located just behind the residence!
Discover also the apartment sharing in Schiltigheim and its surroundings
You are thinking of leaving Schiltigheim to settle yourself in a larger city ? Neighboring the town of Schiltigheim, you will easily find an apartment sharing in Strasbourg. 
The capital is making eyes at you ? Come and fit in an apartment sharing in the parisian region. More accessible than Paris, and with its village or urban appearance, you will be spoilt for choice because the cities around are all different.
The south of France is attracting you but you do not want to move away from the Strasbourg region? Apartment sharing in the Lyon region is waiting for you with open arms.
Lyon and its surroundings are okay but you are thinking of being closer to ski trails? Choose an apartment sharing in Grenoble : a pleasant city surrounded by three of the most wonderful French mountains. 
Do you want to work or study in the north of France ? See you in the capital of Flanders to find the most beautiful apartment sharing in Lille !
Coliving is revolutionizing apartment sharing in Schiltigheim
If you like the idea of sharing an apartment but that you are looking for something else to try, we have the solution: coliving! 
Arrived in France a few years ago and recently in Schiltigheim, coliving was born in the United States in the early 2000s. It took a long time for it to find its place in the French real estate market, but it's on its way to last. A concept that combines the best of apartment sharing and hotel services, coliving is perfect for your stay in Alsace. You will be living in the same apartment as people from different backgrounds. 
If there is one thing that differentiates coliving from apartment sharing, it is in the independence it gives to its tenants. If you choose to live in one of our apartments, located in the La Closerie des Ceres residence, you will share common spaces with all the other tenants. However, you will keep your independence and privacy by having your own private room.  The independence will also be financial. No collective lease, you will have your own individual lease contract. 
There are other advantages to chose coliving in Schiltigheim:
An all-inclusive formula : Forget about financial headaches. In coliving, you will only have to pay the price of your monthly rent. The rental utilities are included with a provision for water, electricity and gas. But coliving doesn't stop there: your rent also includes the apartment's home insurance and internet access. A significant difference that can make you save a lot of money!
Services galore : Finally, coliving gives you access to some services that you could find in a hotel to make your stay in Schiltigheim more pleasant. Indeed, if you need someone to pick you up from the airport to drop you off at your new coliving apartment, it's possible! Just let us know in advance and we will call you a driver. You don't have time to do grocery shopping and you want to have a filled fridge when you arrive?  Don't worry, we can adapt to your needs by offering you a food pack for your first week!
These and other services are available at Colivys for an additional fee. To find out more about coliving, visit our dedicated article.